Product Description
SCT Livewire TS+ Performance Programmer 2003-2007 Ford 6.0 Powerstroke
ATTENTION!!! THE SCT LIVEWIRE IS SO POPULAR WE HAVE RAN OUT AND ARE EXPECTING A DELAY ON OUR NEXT SHIPMENT. YOU CAN ORDER THIS BUT WHEN IT IS ORDERED THERE WILL BE NO REFUNDS PROCESSED. WE ARE BEING TOLD DATES OF 10-30-22 AS A LEAD TIME FROM SCT. THANK YOU FOR UNDERSTANDING.
Shop with Blessed Performance for the SCT Livewire TS+ Performance Programmer this is a performance upgrade and monitor all in one for your 2003-2007 6.0L Powerstroke. From the factory, your vehicle's computer is calibrated for the masses, designed with the average driver in mind, not the performance enthusiast. This not only leaves valuable Horsepower & Torque hidden inside your vehicle, but it also makes for a mediocre driving experience. The Livewire TS unlocks your vehicle's hidden performance by re-calibrating your vehicle's computer for Maximum Horsepower & Torque, Increased Throttle Response, Firmer Shifts and even Increased Fuel Mileage. SCT's Pre-loaded Dyno Proven tune files optimize the vehicle's Air / Fuel Ratio, Engine Timing & Fuel Curves for Maximum Performance while maintaining the factory reliability & drivability. Whether towing a fully loaded car trailer or a 5th Wheel Camper, SCT's Towing tune files add the perfect mix of Horsepower & Torque to help make hauling loads easier. SCT's Performance & Towing tune files not only optimize the vehicle for Maximum Performance, they often INCREASE the vehicle's FUEL MILEAGE by up to 1-2MPG!
Recommended Add-On
SCT 9817 EGT Sensor Kit (Also available on BlessedPerformance.com)

HIGHLIGHTS:
Full Color 4" Touch Screen Display
Rear View Camera Input
Pre-Loaded Dyno Proven Tunes
Stores Up To 10 Custom Tunes
High Speed Data Logging - Monitoring
Built-In Performance Calculator
Read & Clear DTC Trouble Codes
Improved User Interface For Easier Navigation

User Adjustable Themes & Tune Options
Built-In Wifi For Easy Wireless Updates
Rear Exit Cable Connection For Easier, Cleaner Device Mounting.
Shift On-The-Fly Power Level Adjustments (Select Powerstroke Applications up to 2010 excludes 6.0L trucks)*

Livewire TS+ Includes:
Livewire TS+ Performance Tuner & Monitor
OBDII Cable w/ Video & Analog Input
High Speed Mini USB Cable
Livewire TS Suction Cup Windshield Mount
SCT Chrome Badge

Blessed Performance 6.0 Powerstroke Custom Tuning List
Tow Boss - Our brew of a clean pulling 6-liter Powerstroke. We love to see folks use these trucks for their intended use and we will ensure you that with this tune you will be safe to tow like a boss. We include some nice features but can add others to the mix. We include for the vgt folks heavy Jake Brake and for the Non-Vgt folks an Overdrive Lockout that allows you to pull a hill like a champ. We also integrate some nice help from the transmission for stopping those heavy loads. 30-50hp
Eco Beast Street - This is our flagship tune. Although most customers see a 2-4 mpg gain with this tune, we do not guarantee but we would be surprised if you didn't see those gains. This is a super clean tune designed to run clean and efficient for those long road trips or daily driving around town to get groceries. 90-130hp
Blessed Xtreme Performance - This is our everyday race tune. We work with the trans to hold shift points slightly longer and really bring on the power in the 6.0 Powerstroke power band. This tune has seen up to 190hp gains which is rare, but it can happen with a very healthy running truck. This tune will be smokier simply due to the fact it is a race tune, and we recommend this for Friday night cruising downtown when you want to beat up on the Mustang's or other diesel boys. We recommend this for going to the track and running to have a good time. 140-190hp
Applications:
1999-2003 F-Series Super Duty 7.3L: +110HP & +200ft-lbs.
2003-2007 F-Series Super Duty 6.0L: +120HP & +248ft-lbs. <-Blessed Performance give you to option above for the 3 Free Custom Tunes with Purchase as well! (Only for 6.0)
2008-2010 F-Series Super Duty 6.4L: +113HP & +141ft-lbs.
2011-2012 F-Series Super Duty 6.7L: +88HP & +101ft-lbs.
2013-2016 F-Series Super Duty 6.7L: +135HP & 151ft-lbs.



5015P Livewire TS+ PID's Monitored




6.7L Powerstroke

7.3L/6.0L Powerstroke

6.4L Powerstroke

ABSOLUTE LOAD IN PERCENT
ACCEL PEDAL POSITION D
ACCEL PEDAL POSITION E
ACCEL PEDAL POSITION VOLTS
AMBIENT AIR TEMP C
AMBIENT AIR TEMP F
AVERAGE DISTANCE BETWEEN REGEN
BAROMETRIC PRESSURE
BATTERY VOLTAGE
DISTANCE SINCE DTC CLEARED KM
DISTANCE SINCE DTC CLEARED MILE
DISTANCE SINCE LAST REGEN
DPF SOOT MASS
DTC COUNT
DTC COUNT TCM
ENGINE COOLANT TEMP C
ENGINE COOLANT TEMP F
ENGINE OIL TEMP
FUEL LEVEL SENSOR
FUEL RATE
GEAR COMMANDED
INTAKE AIR TEMP VOLTS
MAF FREQUENCY
MAP ABSOLUTE KPA
REDUCTANT LINE PRESSURE
REDUCTANT UREA LEVEL
RPM
RUN TIME
TCC SOLENOID PRESSURE KPA TCM
TRANS FLUID TEMP F TCM
TURBO BOOST
VEHICLE SPEED MPH TCM


ACCEL PEDAL POSITION
AIR FLOW #/MIN
BAROMETRIC PRESSURE IN HG
BATTERY VOLTAGE
COMMANDED GEAR
COOLANT TEMP
ENGINE OIL TEMP F
INJECTION CONTROL PRESSURE
INJECTOR PULSE WIDTH
INTAKE AIR TEMP
LOAD
TURBO BOOST
MAP
RPM
TORQUE CONVERTER CLUTCH DUTY CYCLE
TRANS TEMP
VEHICLE SPEED
VGT DUTY CYCLE
FICM_IGNITION
FICM_LOGIC_POWER
FICM_MAIN_INTERNAL_INJECTOR_PWR



BAROMETRIC PRESSURE KPA
BATTERY VOLTAGE
COOLANT TEMP
DPF REGEN STATUS
EGT
ENGINE LOAD
ENGINE OIL TEMP
INTAKE AIR TEMP
MAF
PEDAL POSITION
RPM
SECONDARY EGT
TRANS TEMP TCM
TURBO BOOST
VEHICLE SPEED


Note: SCT 9817 EGT Kit is required to read exhaust gas temperatures. (Not included)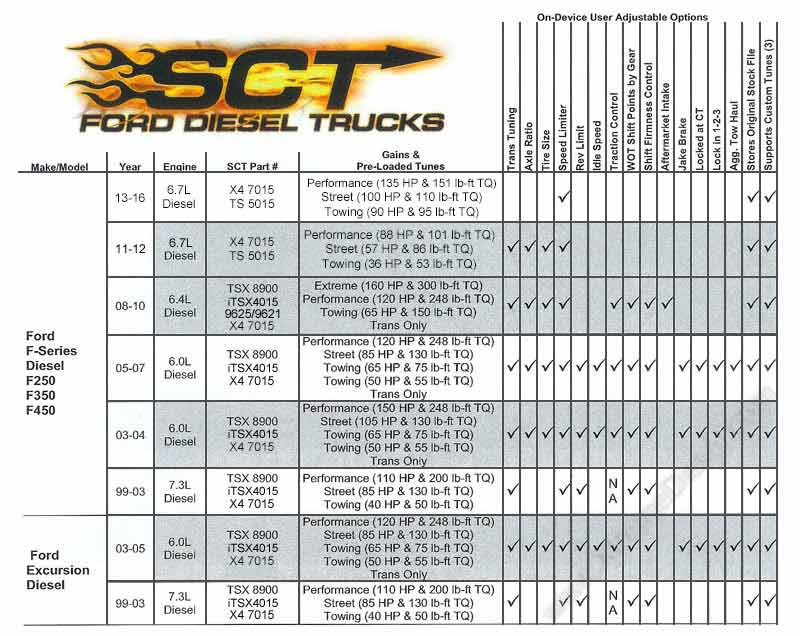 Not available for sale in the state of California
Prop 65

WARNING: Cancer & Reproductive Harm -

P65Warnings.ca.gov
Custom Field
Product Reviews